ABOUT US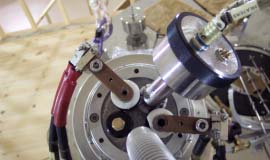 CIS is a leader in Superconducting Magnet Service. We specialize in NMR Service, utilizing the most experienced engineers and the best service equipment available. We also provide service expertise for ICR and other research magnet systems. Working with our network of specialists, we provide solutions to meet the needs of your NMR lab , up to and including full system service, preowned systems, parts, applications support and training.
OUR SERVICES
Cryomagnet Instrument Service specializes in NMR, ICR, and other research instrumentation system service.
NMR and ICR Superconducting magnet and system service
Quench recovery
Magnet moves / lab moves
Magnet refurbishment
OUR NEWS
April 14 through 19th 2013
54th ENC Conference
Cryomagnet Instrument Service will be attending the
54th Experimental Nuclear Magnetic Resonance Conference
April 14th through April 19th at Asilomar conference grounds, please visit us in the Scripps suite.
March 12, 2013

First Anniversary
To our customers, thanks for a year of great business!
March 12, 2012

Cryomagnet Instrument Service was formed.
Cryomagnet Instrument Service was formed