Overview
Cryomagnet Instrument Service specializes in NMR, ICR, and other research instrumentation system service
Cyromagnet Instrument Service offers services for Nuclear Magnetic Resonance (NMR), Ion Cyclotron Resonance (ICR), and other research instrumentation systems.
Pre-Owned Systems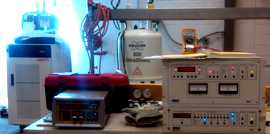 We buy and sell pre-owned systems!
Systems, equipment, and parts availabity changes on a regular basis. Contact us to discuss purchasing equipment or to sell system or equipment you already own.